Save the Date!
We're excited to announce that our 2022 Conference will be taking place
13th-15th May in Ōtautahi Christchurch!
Hope you can join us! In the meantime – would you be interested in presenting or sharing your work at the Conference? Is there a speaker you'd like to hear from, or do you have a suggestion for someone we could shoulder tap? Or would you like to get involved and help us make this the best conference yet? Drop us a line at adventuretherapyaotearoa@gmail.com – we'd love to hear from you. Sign up for our Newsletter or join our Facebook Group to keep in the loop as our plans develop.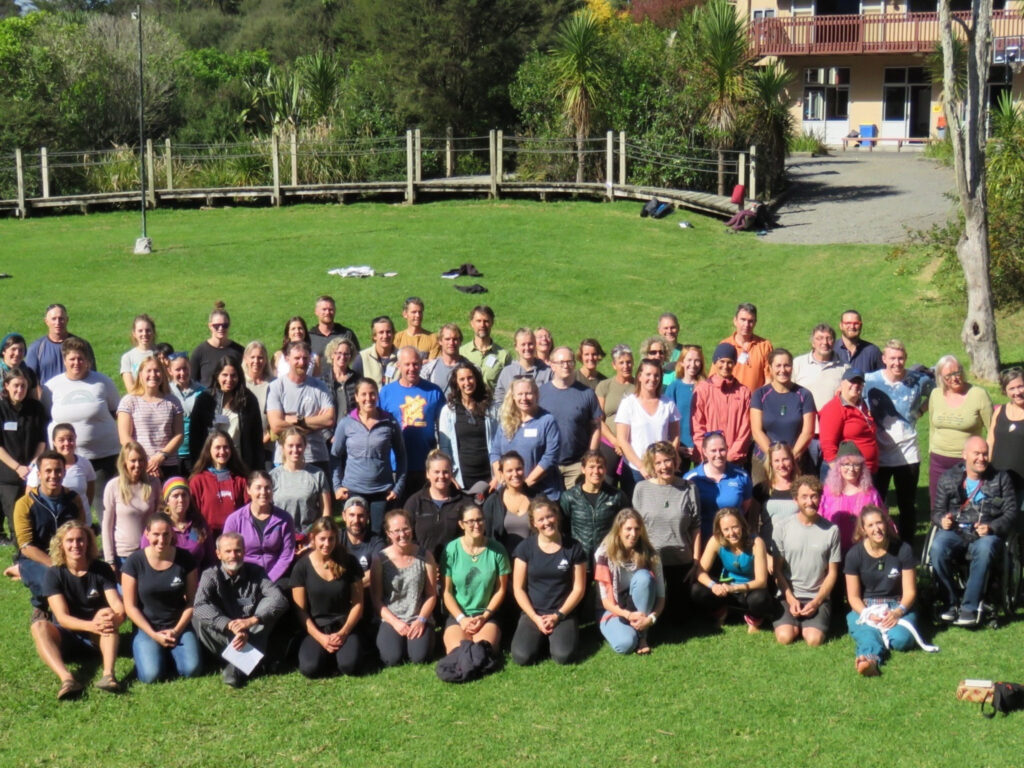 For an idea of what you might be in for, here's some info about what happened in Ōtepoti/Dunedin in 2021:
He oranga te hua o te hono // Resilience through connections
—
In 2021, our theme was He oranga te hua o te hono – wellness is the fruit of connecting. The gathering connected us with each other, with nature, with culture, with diverse ways of working and with the ideas we need to strengthen and reinvigorate us in our mahi.  We were joined by a wide range of people who work outdoors in various ways – occupational therapists, social workers, outdoor specialists, psychologists, nature-based therapists, teachers, eco-therapists, counsellors…and others! It was a wonderful opportunity to learn, to share knowledge, to network, to experience and to explore together.
---
We also had two outstanding keynote speakers: Blair Gilbert and Dr Chanel Phillips (Ngāti Hine, Ngāpuhi)
Blair Gilbert
Yes We Can – Embedding Adventure Therapy into everyday practice, everywhere, everyone.
Blair Gilbert is a giant in the world of Adventure Therapy.  He is currently the Chief Executive of Tautoko Mai Sexual Harm Support based in the Bay of Plenty.  Prior to this role Blair held senior leadership roles at NZ Blind Foundation, the Ministry of Youth Development and the Foundation for Youth Development (Graeme Dingle Trust).  He taught the world's first Degree programme with a major in Adventure Therapy, was a founder of Adventure Therapy Aotearoa, convener of the 4th International Adventure Therapy conference and the NZ representative on the IATC for a number of years.
—
Dr Chanel Phillips (Ngāti Hine, Ngāpuhi)
Te puna i keteriki, keteriki, kete tana riki! E tū atu nei Ngāti Hine pukepuke rau tihei mauriora! Tēnā koutou katoa, he kākano au nō te māra o Hineāmaru, nō Ngāti Hine me Ngāpuhi ahau. Kei te mihi.
Chanel's genealogical links to the Far North in Ngāti Hine and Ngāpuhi firmly grounds her as a Māori academic. She is a Lecturer in Māori physical and education and health and joined the University of Otago as an academic staff member in 2019. She is co-director of Te Koronga: Indigenous Science Research Theme and a member of the Coastal People: Southern Skies collaboration that connects communities with world-leading, cross-discipline research to rebuild coastal ecosystems. You can read more about Chanel's research interests here.
---
There were a wide range of presentations and workshops – learning about each others' work and challenges – everything from '10 slides in 10 minutes' to 3.5hr adventure-based sessions. There was also lots of space to meet other participants, build relationships and have some great organic conversations.
One of our favourite parts of Conference is getting outdoors on the Saturday afternoon – this year included sea kayaking, surfing lessons, mountain biking, an introduction to the ngahere, rongoā and kōrero pūrākau, and self-directed adventures such as walks and trail runs in the hills behind the venue.
Hope to see you in 2022 in Canterbury!